(Potrait by Morgan Sea, https://morgansea.wordpress.com/).
Dr. Marty Fink serves as Assistant Professor in ProCom with a focus on queer and trans studies; their work as a researcher and instructor explores media narratives toward supporting trans access, decolonization, #BlackLivesMatter, and fat positivity. Through Dr. Fink's courses at Ryerson, students study media produced by underrepresented  groups and communities including trans, racialized and queer individuals. "My work centres histories and perspectives that are often misrepresented by mainstream media. CMN 450 surveys queer/trans videogames, social media, and other texts to investigate how digital media can support social justice, decolonization, and anti-racist work."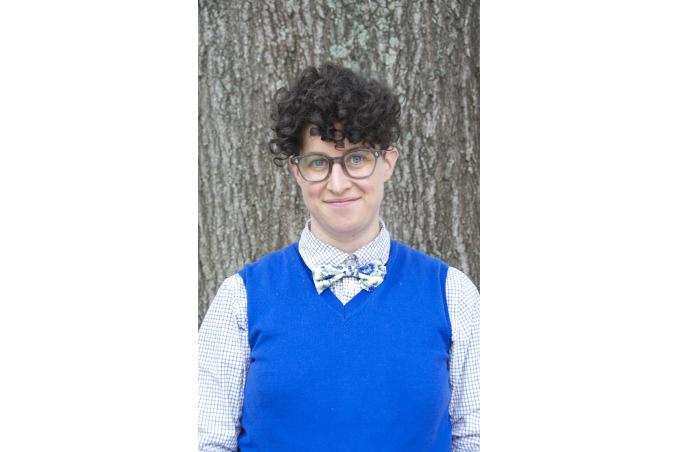 The School of Professional Communication (ProCom) embraces courses which explore technological innovation and intersectionality within safe inclusive learning spaces, of which Dr. Fink's course CMN 450 is an outstanding example. Through intersectional, anti-racist, and decolonization frameworks this course explores participatory culture, or cultures within which individuals are active contributors instead of consumers. Students discover that the digital age has greatly enabled subcultures to organize and share material in innovative new ways, such as sharing autobiographical narratives through text-based digital games.
Through CMN450 Dr. Fink supports students in becoming active media producers, engaging in digital dialogues. They encourage students to develop digital composition skills and produce new media like podcasts and videos, which students will carry with them into their future careers. As with many ProCom courses, students taking CMN450 engage with the wide range of technology available to ProCom students at the RCC, from the FlexLabs to the array of cameras available at the Cage.
"James and Steve from ProCom Technology work with my students to help them build skills in everything from coding to Snapchat filter design. We also work with Kieran, Erin, and the other amazing staff at the DME lab, where students can use 3-D printers, VR, and other emerging media to tell new stories about issues like trans experience, HIV activism, fat positivity, and racialization. As media changes and evolves, so too do the stories we can tell through this media. CMN 450 is also about identifying access barriers students may face in gaining skills using this technology. The course is intended to provide an opportunity for students to play with technologies that, for whatever structural and interpersonal reasons, can feel inaccessible to us."  
Learn more about Dr. Fink's research and upcoming book.
From course availability to a detailed course description, learn more about CMN450 here.
Learn more about ProCom Tech.